Pastoral oversight
– Rev Patrick Taylor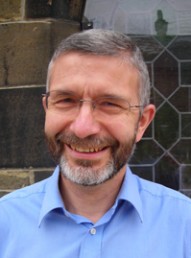 I am minister at Christ Church, Hipperholme and Northowram within the Circuit, together with Heywood United Reformed Church, Northowram. So I get called on by two denominations. Plenty of variety then!
A Kentishman, I grew up in a Congregational, later United Reformed, Church. I took a degree in Law and then trained for the United Reformed Church Ministry in Oxford, eventually arriving in West Yorkshire via Wrexham, South Manchester and Mid Staffordshire. This is not the most direct route, but I have been blessed by good people and good learning experiences in each pastorate.
I am married to Thelma who works for Sure Start. We have one daughter who lives away from home and two cats very much at home with us.
When time – and cats – allow, I enjoy cooking, swimming (to control the effects of eating what gets cooked), crosswords, travelling to new places and back to favourite places, and stories of many sorts; history, theatre, films, crime novels and, of course, Bible stories which have been part of my life for as long as I can remember.
---
Church Secretary
– Caroline Stead
Born a Brummie, I lived in Handsworth until escaping the smog and moving to Halifax at the age of 7. The welcoming children at Warley Road School told me "you don't talk proper" so I rapidly acquired a Yorkshire accent! We also acquired a dog and I relished the countryside and became a passionate horse rider. Riding and helping out at the local stables led to competing, teaching and breaking in young horses. Sadly, I do very little riding now.
I attended Crossley and Porter Grammar school and from there I travelled north again, to Durham University, to read Mathematics and then to complete a PGCE.
It was while I was in Durham that my life as a Christian 'took off' and I became a member of the Methodist Church. At Methsoc. we were fortunate to hear regularly speakers such as Kingsley Barrett and Paul Smith and I had wonderful friends – many of whom are now presbyters.
Returning to the Halifax area to marry and teach at Holy Trinity Senior school, I learnt to appreciate incense. After a break from schools and the birth of Rachael and Jonathan, I returned to teaching at Hipperholme Grammar School in 1992ish and am still there!
My Methodist pedigree goes back to my birth – mum was the deputy organist and dad the choirmaster at Rookery Road Methodist Church. When we moved to Halifax, we attended West End Methodist (the one at West End, not the one at Queensbury) until it closed – we then attended King Cross. That too has now closed. Following university, I worshipped briefly at Lindley (still open) and then Hipperholme Methodist (now Christ Church LEP).
I was a Circuit Steward in the Halifax Circuit and have been Senior Steward and Church Secretary (the nearest LEP equivalent role), and many other things you wouldn't be interested in. Currently, I am a Conference Rep and a member of the Conference Business Committee. I LOVE Conference.
The call to preach came in spite of me frequently telling people that I would "do anything except preach" and I am now a fully credited lay preacher.
I feel incredibly privileged and humbled by the fact that God has chosen to use me to spread his word to others – not just in worship but also through my daily work amongst children and teaching colleagues.
---
Leadership Team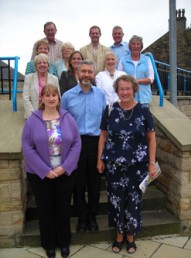 Christ Church has a Leadership Team which combines the functions of URC Elders and Methodist Stewards and Councillors. We are the managing trustees of Christ Church and as such are responsible for all matters concerning Safeguarding, Finance and Property.