Pastoral oversight – Rev Colin Sherwood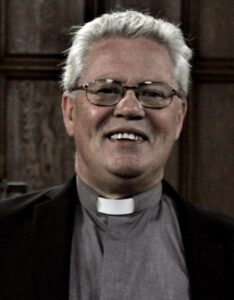 Colin arrived in the Calderdale Circuit in September 2013, moving from Sheringham on the North Norfolk Coast. He has pastoral responsibility for Christ Church Hipperholme & Lightcliffe, Southgate in Elland and Mount Tabor. He works alongside Lay Pastor Mrs Pamela Hales offering Presbyteral oversite to the Bethesda (Elland) and Northowram Churches.   Colin has a passion for sharing Jesus in the market place and building relationships between church and community.
He shares a home with a goldfish (fishy) and a bearded dragon (Sylvester) who, between them, keep him grounded. The one rule in the household is that the animals always eat first.
When he is "off duty" Colin can be found on the airwaves, talking across the world as a radio ham, shooting on the local clay pigeon grounds with friends, practising for the next musical event whether that be crooning to a community social group or appearing in the annual Southgate musicals.
After being made to work his fingers to the bone in his parent's garden from an early age, he finds garden implements far too traumatic to handle. Anyone who finds the Manse wildlife sanctuary somewhat unkept is very welcome to have a go at restoring order themselves.
---
Church Secretary – Karen Bridge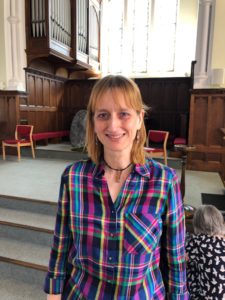 I am a member at Christ Church LEP from a United Reformed Church background and currently a serving member of the Leadership Team and Church Secretary.
I am also the 'Captain' of our children's Group, Pilots, which runs on a Friday evening during school term time. I have been 'Captain' for over 25 years now and recently received a 'Long Service' recognition award. I enjoy planning the weekly sessions.
Outside of church life, I have worked for the same company for 25 years.
When time allows, I enjoy reading novels, shopping (retail therapy), spending time with my nieces & nephews and meeting up with friends.
---
Leadership Team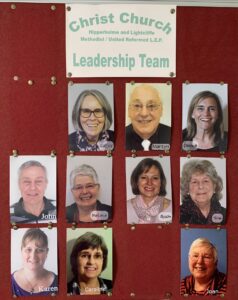 Christ Church has a Leadership Team which combines the functions of URC Elders and Methodist Stewards and Councillors. We are the managing trustees of Christ Church and as such are responsible for all matters concerning Safeguarding, Finance and Property.