Worship God with us at Christ Church in Hipperholme
Sunday Worship
We come together to worship God on every Sunday morning at 10:30am.
Transport is available
We have recently started to audio record our services.  Click here for a list of sermons you can listen at home.
Junior Church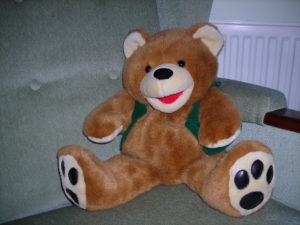 Junior Church is held every Sunday morning during term time, unless the service is 'All Age' worship.  We share in part of the morning service and then continue separately, following the activities suggested by the Scripture  Union materials 'Bubbles' for 5s and under, 'Splash!' for 5 to 8s and 'Xstream' for 8 to 11s.
Our puppet James Robert is a favourite with the children!
Prayer Circle
Start the week with God. Each Sunday, from 10.00am, before the service, there is an opportunity to meet for prayer. All are welcome.
Church Meeting
What's going on? To find out, be involved with planning, float your ideas, listen to others, monitor developments and vote on decisions, come to the regular Church Meetings. This is where you'll discover what the Leadership Team and other groups have been discussing – and get a bigger picture of the life of Christ Church. Details in the Church Newsletter and Notice Sheet.