Children's activities
Baby and Toddler Group
Propel your pushchair to Christ Church!
Babies, toddlers and their carers are invited to join in a social activity morning each Monday and Friday. 10:00 – 12:00 in the large hall at the Christ Church Centre, Lightcliffe.
Junior Church
Junior Church is held every Sunday morning during term time, unless the service is 'All Age' worship.  We share in part of the morning service and then continue separately, following the activities suggested by the Scripture  Union materials 'Bubbles' for 5s and under, 'Splash!' for 5 to 8s and 'Xstream' for 8 to 11s.  Providing opportunities for games, singing, stories, Bible research, discussions, colouring and creating!
Our puppet James Robert is a favourite with the children!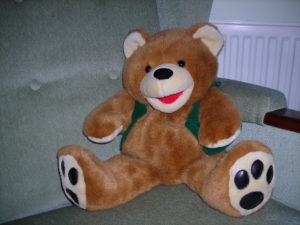 A lively Club meets in the Pilots' Room each Friday at the Christ Church Centre, Lightcliffe.
Children aged 5 – 11 years follow a programme of badge work, activities and games. 6.30 – 8.00pm
Wednesday afternoons at Christ Church,  Hipperholme crossroads
Toddlers–and their carers–are invited to come and enjoy messy play, activities, books, songs and fun!
Children from 16 months – 3 years welcome
£2 per child including refreshments
1.30 – 2.30pm in term time
Youth Group
We have decided to have a break from meeting on the 2nd Friday of each month, as numbers had declined over the last 12 months.
Instead we are focusing on Circuit and District youth events which are bigger and better!  These will be advertised on our Facebook group 
Casual, Comfy and Creative worship!
Once a quarter we hold an 'alternative' evening service which has been designed with our teenagers but all our welcome. Click here to see details of the next service.
Casual – we can come to God just as we are, with simple and jargon free worship. In café style worship where we sit around tables and have discussions around hot chocolate and cakes.
Comfy – our teenagers didn't want to sit in rows on chairs but on pillows, bean bags and cushions.
Creative worship – where we all particulate in worship and join in far more than just singing hymns. With interactive prayers and more visual worship by using the screens and videos.